2 down, 1 to go…
2.30.07 last year was agonisingly close.  About 30 metres in marathon terms and the same amount that can be made up in a parkrun by taking the shortest line.
The motivation was high this year to put that time to bed and get a 2.29 marathon to my name.  In summary.  A great autumn and winter of training including a 2.33 marathon at Chester, a few good half marathon course PBs and a great platform for the 16 week build.
That all went wrong in January though.
2 reasons:
Tendonitis after doing a Cross Country race in spikes for the first time in 2 years
Entering an Ironman in Israel with a  10 mile downhill run
Run training was effectively on hold from 7th Jan until 14th Feb when the tendonitis cleared and lost 5-6 weeks of training with recovery.
Coventry Half marathon I where my current PB was set, and I wanted to be in 1.11 form, a minute faster than last year but finished in a disappointing 1.14.30 having struggled to find any speed from miles 4-8.  A block of high mileage then got some running form back for 20 mile race in Gloucester.  Form was ok and a 1.55 finish was getting close to marathon pace.  Another half marathon at Reading 5 weeks after Coventry and an aim for 1.11 again.  Sadly, despite best efforts and gritting teeth for the last 5 miles, a 1.13.03 for my second fastest half marathon was just not building the form I needed.
Onwards to the first of 3 attempts at a new Marathon PB this year with Manchester on 10th April.  A short race report as follows:
Crap night's sleep with a dry cough
Crap organisation of the race
Crap preparation with no warm up or stretching
Felt like I was over reaching from the start trying to hold 3.30/km pace and kept losing touch with a group.
Went through half way in just over 1.14 but finding it hard going
Headwind on the return leg and just struggled running on my own
No pace left from 22 miles and finished in 2.33.30
A week of recovery, then a few marathon pace runs and onto another attempt at London Marathon 2 weeks later.
Race Report:
Everything prepped well. Warmed up, good weather, good sleep.  It could have been the day.
Rather than the GFA start and the Hawaiian Shirt of previous years, it was a club vest and championship start. This meant that unless I was some bellend triathlete in the Boston Marathon with silly compression clothing and a cap turned backwards, I was not going to be leading the race this time.  The problem though, as I will always preach, is to not get carried away with the pace and run your own race.  So I did.
First KM: 3.28.  That was fine.  I expected it to be a little slower having extra traffic but sitting in a big group, it felt very comfortable.  Keep to this pace and all would be ok.
Second KM: 3.24.  Hmmm, too fast but went with it. Still felt good
Third KM: 3.23.  Warning alarms were going off….SLOW DOWN
Fourth KM: 3.19.  It was downhill. I was trying to relax
Fifth KM: 3.16.  Bollocks, race over. I've over cooked it with a sub 17 min first 5k.  I'd be happy with that as a parkrun on any course but not in a marathon.
I backed it right off.
Sixth KM: 3.21, then 3.23, then 3.24
The problem was that I had now lost touch with a big group in easing off and running past Greenwich, I was alone and battling the light wind without a group to latch onto.  To be honest, I was kicking myself here and knowing that I'd hit 10k in 34 mins, it was faster than my fastest half marathon and knew that I had written a load of cheques that I just couldn't repay.
Miles 8-10 were the bad patch but still encouraged by going through 9 miles in under 50 mins and setting a new 10 mile PB.  Bollocks again. You have to look for the positives though.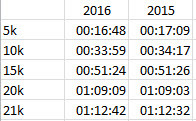 Mile 11-12 felt really slow.  Running Tower Bridge alone and then pushing towards halfway, the pace had fallen behind the 2015 split for the first time and I was going backwards.   Thinking I could still run a 1.16 second half, I kept the pace going and still had a minute in the bag at 25k. The problem was that I was just fading badly.
That minute had gone in the next 5k and then at 20 miles, the calculation was that a 36 minute 10k would be enough.  No way!   A 40 minute 10k was hard enough but it was still in sight until going through 23 miles in 2.12.00.  It was still possible to run sub 2.30 with 3 x 5.40 miles but I was barely running 6 min miles now.  I was done.
No big finish this year, just glad to finish but will look at a few different training tactics now.  The fitness may well have been there.  I'm not done with this yet.  I paced it wrong. I went for it and tried for sub 2.30 but a combination of missed training, lack of speed and only 2 weeks since the last marathon may have contributed.  But it was my second fastest ever marathon, and my second slowest 2nd half.
Writing this though, it's the best I've ever felt the day after a race so back to training later.

Original: http://www.tri-becoaching.co.uk/outside-the-hurtbox/marathon-triple-round-2